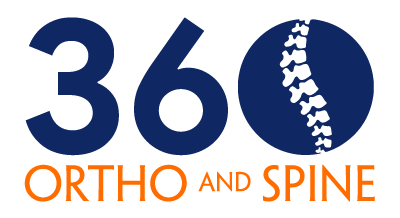 Location
11809 N Dale Mabry Hwy
Tampa, FL 33618
Office Hours
Mon – Fri 9:00 – 5:00 EST
Sun & Sun – Closed
360 Ortho and Spine is committed to helping our patients find long-term relief of chronic neck and back pain and our goal is for each patient to live their best life, free of the symptoms that are holding them back from doing so.
Chronic neck and back pain, and the symptoms associated, such as extremity numbness, tingling, burning, stinging and weakness, can cause great strain on every aspect of your life. Not only can it affect your personal, but also that of your professional life. These symptoms can take a toll on your marriage, the ability to enjoy outdoor activities and time with your family/friends, as well as your professional life. Our purpose is to evaluate each patient and determine the best course of treatment, through minimally invasive, outpatient measures, and remove these burdens from your everyday lives.
Because our patients are always our first priority, it is important for us that you are knowledgeable about your conditions, have an understanding of the treatment plan your surgeon recommends and take ownership of your recovery. We will be with you every step of the way to ensure that you have all of the information and tools you will need for a quick recovery and the ability to transition back to a normal, healthy lifestyle.
After you have exhausted all conservative care measures, such as chiropractic care, physical therapy and epidural steroid injections, you will want to begin researching the options that are available to you, outside of traditional, open-neck/back surgery. We encourage you to reach out to us to determine if a minimally invasive surgery is right for you. We will be happy to answer your questions about your potential treatment options.
360 Ortho and Spine treats conditions such as:
• Degenerative Disc Disease
• Bulging or Herniated Discs
• Bone Spurs, Spinal Stenosis
• Lateral Recess Stenosis
• Foraminal Stenosis
• Facet Joint Arthritis
• Spondylolisthesis.
If you have been diagnosed with any of these conditions, you owe it to yourself, your family, friends and your employer to contact us today.
Our surgeon, Dr. Stefan Prada, has treated over 10,000 patients, through minimally invasive spine surgery, and believes that surgery should be your last option. While most orthopedic surgeons treat all areas of the body, including shoulders, hips, knees, spine, etc. Most surgeons will perform approximately 400 spine surgeries per year. When seeking the surgeon who is right for you, you should want a surgeon whose sole focus is the spine. Dr Prada devoted his career and expertise to spine surgery, giving him more experience and a greater ability to treat that area of the body, resulting in more positive outcomes for his patients. Dr Prada has treated approximately 900 patients per year.
Another very important factor is many surgeons have been trained to perform open neck/back surgery and fusion. Although Dr. Prada has been trained to perform those exact procedures, he has also taken time to undergo a fellowship to learn the minimally invasive techniques because his main goal is to provide long-term relief without having patients undergo long recovery times and pain while doing so. may be looking for reasons to use hardware, and fuse your spine, Dr. Prada understands that hardware should only be used when medically necessary and is always making sure that fusion is the only way to provide relief for his patients. In most situations, fusion is unnecessary to provide the long-term relief you deserve. When it comes to surgery – in any part of the body, but especially the spine – a minimally invasive, muscle-sparing approach, will always be the best option.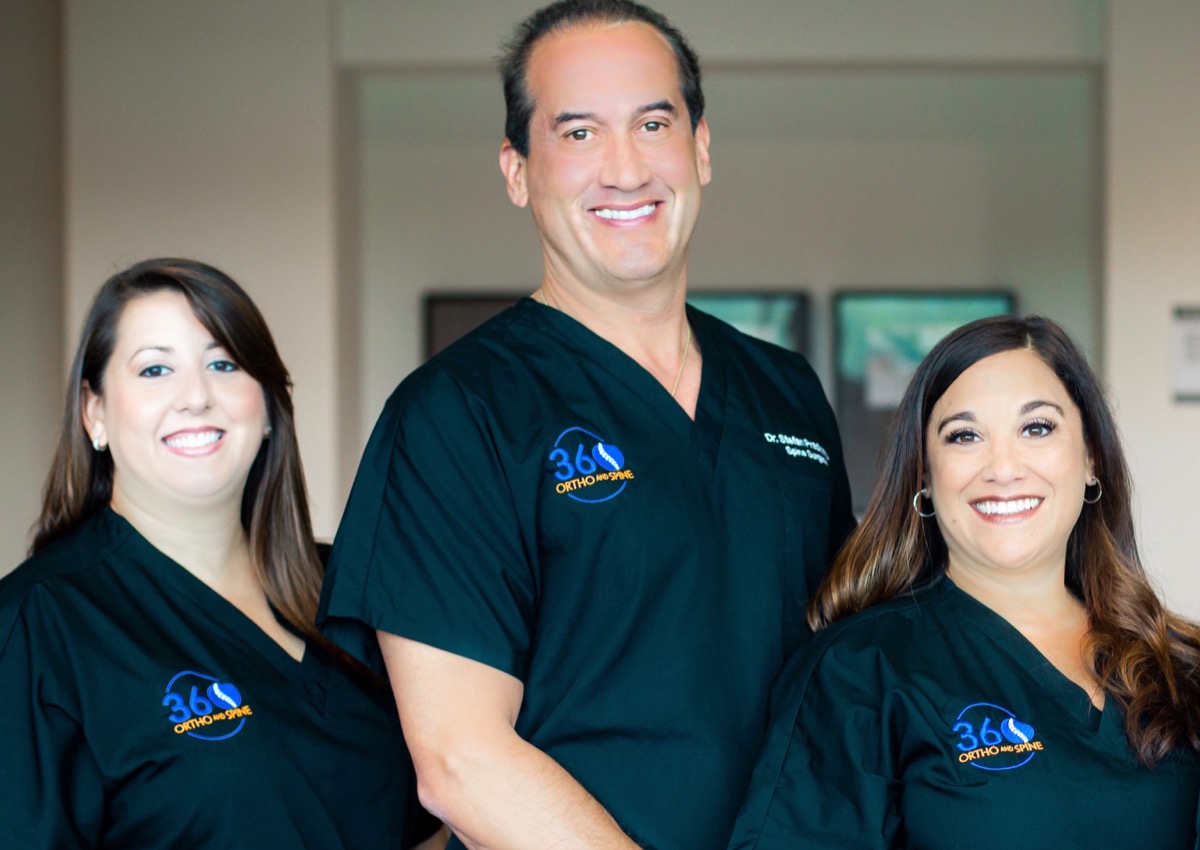 Gone are the days where the doctor is inaccessible and leaves you looking for more answers on your search for relief. The mission and values for the team at 360 Ortho & Spine set a high standard for the delivery of medical care. We expect to deliver a world class experience at our facilities and nothing else will be acceptable.
WE ARE EXPERIENCED
Collectively, our team boasts over 3 decades of experience in the delivery of medical care. Moreover, our surgeons have performed well over 10,000 minimally invasive surgical procedures.
WE ARE AVAILABLE
We aim to make ourselves available for our patients right when they need us. If for some reason we are not available at that moment in time, we will respond to your inquiry within 24 hours from the moment it was made.
WE ARE COMMITTED
Your experience with 360 Ortho & Spine is not finished when you leave our doors. Our mission is to put you on the path to relief but then also make sure that you have everything you need to get there.